May 10, 2021
Announcing the Winner of the 2020-2021 Outstanding Writing Instruction Award
Image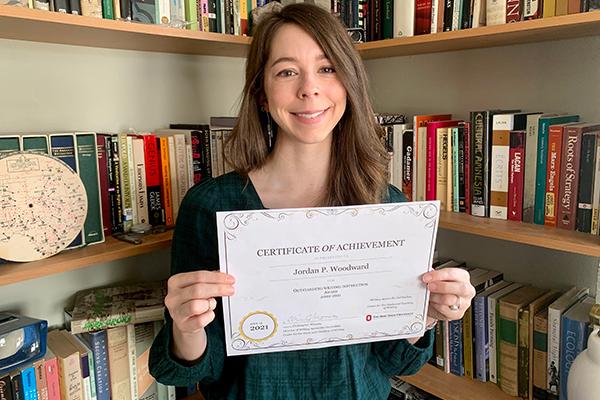 Description
Columbus, OH -- The Writing Across the Curriculum (WAC) Program proudly announces the winner of the 2020-2021 Outstanding Writing Instruction Award: Jordan Woodward, a graduate student in the Department of English. This annual award recognizes a Graduate Teaching Associate who teaches writing in an innovative fashion: helping students overcome learning challenges, connecting writing to significant disciplinary concepts, and improving teaching based on assessment and feedback. As this year's winner, Jordan will receive a $200 award and a certificate of achievement. In addition to her monetary prize, Jordan will participate in an episode of the WAC podcast--Write.Think.Teach.--to discuss how she uses multimodal assignments to promote her students' overall engagement with the local community, and more specifically, to be able to address the real needs of diverse audiences. 
Jordan showed incredible dedication to making her course accessible and considering how students can take the skills they learn with them into their future endeavors. The committee was particularly impressed by the strong alignment of her course design and meeting course objectives with valiant teaching philosophy. In particular, she promoted students' engagement with the local community and encouraged them to design content for different audiences while addressing their varied needs. Overall, the committee was taken with her thoughtful writing prompts and intentional trajectory to build strong writing foundations in community engagement that can carry over into other classes and beyond their time at the university.
The committee also awarded two Honorable Mentions:
Parisa Ahmadi (Department of Comparative Studies) inspired the committee with her intentional encouragement for students to build community through writing. In particular, her teaching approach emphasized resisting formalities in academic writing by helping students feel confident about their own individual writing styles. Her attention to what her students read and opening important conversations, especially in how she has adapted into online instruction during the 2020 pandemic, demonstrates the usefulness in giving students space to write and explore ideas in more creative ways. 
Mark Susmann (Department of Psychology) showcased how meaningful writing tasks can help students bridge social psychological concepts with the real-world problems of their interests for different types of audiences. The award committee admired his efforts to create transfer opportunities in his class through designing a series of project-based writing tasks that not only emphasized the importance of teaching and learning content knowledge but also skills necessary in academic contexts in general. Overall, he clearly valued students' learning and engagement in and beyond his classroom. 
Sponsored by the Writing Across the Curriculum (WAC) student organization, the award was adjudicated by a committee of WAC graduate consultants. WAC is based in OSU's Center for the Study and Teaching of Writing and provides research-driven support for the teaching of writing throughout the university. For more information about WAC's workshops, consultations, and other services, contact Dr. Christopher Manion at manion.12@osu.edu or (614) 292-9650.
---